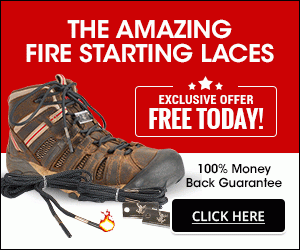 Well, it's the 6th Edition of the Survival On Purpose Newsletter and it has been a very eventful week here in the good old USA.
First of all, my heart goes out and my prayers are with the families of all those who were affected by the school shooting (murders) at Umpqua Community College in Roseburg, Oregon this week. It was truly sad news on so many levels and, as usual, the response from so many fronts was to use this horrible tragedy to promote their social and political agendas while ignoring many relevant details.
As much as I don't want to seem callous in the face of such a devastating event, I think it is important to point out a couple of things. First, there has been very little in the mainstream press about the fact that the murderer specifically  asked people if they were Christian and, if they said yes, he told them they were about to see God and shot them in the head. I checked several articles from CNN, LA Times and NT Times and the most I could find was a statement to the effect that the murderer (that is what I call him, not "shooter". I am often a shooter myself but I don't shoot at other people) "seemed to be singling out Christians".
I did not see a single headline calling this a "hate crime" or even mentioning that Christians seemed to be targeted. Can you imagine the difference had the murderer singled out another group? Pick a descriptor: sexual orientation, ethnic background, religion (other than Christian of course). I think anyone who really doesn't think it would have been headlines if one of these other "groups" were selected for cold blooded murder is completely in denial. But, of course, journalists are the unbiased protectors of a free society, right?
I think I'll stop before I start really ranting. I won't even point out that, like many other similar crimes of this nature, this happened in a "gun free zone". How is that even possible? Or if the heroic veteran who was shot multiple times trying bravely to stop the assassin (or any of the other people present) had been legally able to be in possession of a firearm and chose to carry one; many innocent lives may have been saved. In fact, I saw a video interview with an Air Force veteran who was legally armed and on campus in another location who was prevented from trying to engage the murderer. I didn't see anything about that in the headlines either.
OK, I am really stopping now. Deep breaths…
On the opposite coast this week we got a big reminder of why it pays to always be prepared. Hurricane Joaquin (should it be a himicane now?) caused massive flooding in Charleston South Carolina and other coastal states on the Eastern Seaboard. Which means that fresh water supplies will be contaminated, the power grid will be affected and other utilities impacted.
For me, events like this always remind me just how important it is to have the basics covered. Being prepared is not about prepping for for all the "doomsday" scenarios so many focus on. It can be as simple as making sure you have a way to ensure fresh water for your family, making sure you have the basic necessities available and even keeping the gas tank full in your vehicle in case you need to evacuate in a hurry. Besides, if you approach it this way, your friends and family won't think you are one of those nuts they watch on "reality TV".
Speaking of being prepared, this month's sponsor  is a company called Survival Frog.  Survival Frog is having some specials this month and each week I will be featuring one of their cool products. (And I really think they are cool). Just to be up front, if you decide to take advantage of any of their deals, I will get a commission on the sale. That's why I call them a sponsor.
Anyway, this week the item I am featuring is the Fire Laces. It is a really cool pair of shoe laces that have little ferro rods on each end. To get your own pair of these you just pay the shipping of $3.95. They also have multiple quantity discounts so you can get a pair for everybody in the family. I think they would make great stocking stuffers too if you are one of those who plans ahead for gifts. You can CLICK HERE to check them out.
In other news, this week's Thrunite Thursday Giveaway winners are: Grandpa Bill and Steven Bunin. Congratulations guys. Stay tuned every Thursday for a chance to win a cool Thrunite flashlight.
Finally, just a peek ahead. I have some cool new reviews in store for you. One of my goals is to do some 'suggested gift" videos for Christmas. I'm going to try to find some good ideas of things I know are good in different price ranges to help folks like me who always have a hard time finding gifts for people. I'm also sort of dipping my toes into the firearms pool a little and trying to find a place to shoot video covering my take on some stuff. Hopefully, that will happen soon.
As always, I would like to know what you want to see on the channel. Drop me an email or comment on the videos and let me know. I am keeping a running list of suggestions and ideas and I'll do what I can to make the happen if they fit the content on the channel.
Thanks again and thanks for checking out the sponsors' ad below 😉
Br Prepared,
Bryan