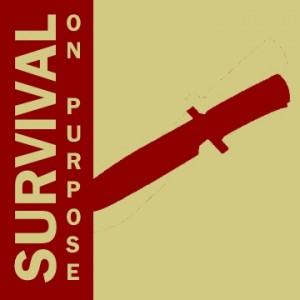 Hello. Welcome to Survival On Purpose. We are a family operation made up of Bryan, Ruby(Jenny), Eric, Luke, Todd and Josh Stevens. Our goal is to share over 40 years of accumulated survival and outdoor knowledge. Our slogan is "Survival Is Not An Accident". We believe the Boy Scout motto "Be Prepared".
Survival On Purpose
We decided on the name "Survival On Purpose" for two main reasons.
First, we believe in any "survival" situation the key to making it through healthy and alive is preparation. Preparation happens on purpose. It really isn't an accident. Those who are prepared with the proper skills, knowledge and mindset have the best chance of survival in any critical situation.
Second, we believe the only way to really gain the skill, knowledge and mindset you will need if faced with a true survival situation is to practice them frequently. Some folks call that "dirt time". Whatever you call it, it's a crucial component of being prepared. You can read all the right books and watch videos until your eyes hurt. If you never actually get your hands dirty practicing the skills you may need, you could very likely find out they aren't as easy as they looked on TV if you ever really need to use them
One thing we want to accomplish is to show that regular ordinary folks with full time family and career obligations can still practice and learn survival type skills and have a good time while doing so. Through simple videos and articles, we hope to demonstrate some basic techniques and skills that are easy to learn yet very helpful if you need them.
Along the same lines, we think it is important to have the right equipment for both planned activities and unplanned circumstances. We know how hard it can be sorting through all the marketing hype so we try to help by testing and reviewing quality camping, bushcraft and survival gear. From survival and bushcraft knives to cooking and shelter gear, we do our best to give you honest, unbiased information to help you make informed decisions about what to buy.
We freely admit that we are still learning new ways of doing things every day and we don't claim to be experts in anything. We hope you will join us here at Survival On Purpose in improving our skills and learning new ones together so we can both become more prepared for whatever comes our way. Because we really do believe that "Survival Is Not An Accident".
Thanks,
Bryan
P.S. Become a Survival On Purpose "Wannabe" on SubscribeStar and get access to exclusive content and members-only giveaways. Here's the link: https://www.subscribestar.com/SOP
Also,  we invite you to check out our YouTube channel. Here's a sample: