Wow, it's only my fourth issue and I'm already running behind on my newsletter. I missed a week and this one is a day late. So, since I'm playing catch up, I'll try to keep this brief.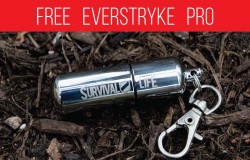 First, it's hard to believe that Survival On Purpose now has almost 40,000 subscribers on YouTube! I am truly humbled. Thank you so much for being part of that.
Speaking of YouTube, The Gauntlet has added a few new members. If you're not familiar with The Gauntlet, it is the brainchild of Chris Tanner from Prepared Mind 101. Chris had the idea to get several channels together to review the same piece of gear to get a wide range of opinions and see how well it holds up over time. You can check out all The Gauntlet videos at http://TheGauntlet.tv
Anyway, I saw a story this week about some kayakers finding a completely naked (or as we say in Georgia "nekkid") woman 3 miles offshore near Newport Beach, California. She said she had survived for 16 hours with no life preserver or other flotation device, just her birthday suit. Apparently, she decided to ditch her swim suit so it wouldn't interfere with her ability to swim.
The 28 year old woman told the authorities she was swimming and got caught in a rip current and pulled out to sea. The "experts", however, say that rip currents and undertows rarely extend more than a few hundred yards from shore. And none of her personal belongings were found where she said she left them. The implication was that there is something "fishy" about her story.
The reason I wanted to share that with you, besides the fact that it is an interesting little news story, is that I had a really scary experience with a rip tide myself a few years ago. It was after we had attended my nephew's graduation from USMC Basic Training at Parris Island. We decided to take the kids to the beach nearby. It was a very windy day and we were just about the only folks there. There were no lifeguards and the wind and surf were so loud you could barely hear each other without yelling.
To cut to the chase, I was bouncing around in chest deep water holding my then 2 year old son on a styrofoam boogie board when I noticed that the water seemed to be getting deep and I was having to bounce up and down in time with the waves to keep my head above water. I also noticed that we seemed to be a lot further from the shore than I thought and every time I bounced up we were getting further away!
So, since I couldn't really get much traction on my tippy toes, I started swimming for shore while pushing my son on the board. It was soon apparent that we were still moving the wrong direction and I was getting pretty tired by now. My son, meanwhile, was having a great time "riding the waves" while Dad pushed him around. I knew you are supposed to swim parallel to the shore to get out of the rip current but it did not seem to be working. (Did I mention I was getting really tired?)
I was swimming and praying when my feet hit some rocks and I realized we had just caught the outer end of one of the rock "groins" that extended out from the beach every several hundred yards. I remember we had been laughing about the name earlier, but I was sure glad they were there now no matter what they were called. After I took a moment to get my breathing under control (and offer a prayer of thanks), we made our way back down the beach to my family who had no idea there was a problem and just wanted to know why we went so far.
So, what does this have to do with survival? Well, survival is not always about fires and shelters and gear. There are many facets of "survival". Sometimes it is about knowing what to do or not do (like don't try to outswim a riptide). Or about being physically fit so you are able to do what needs to be done to survive. I just think sometimes we tend to get focused in one direction and limit ourselves.
I encourage you to expand your horizons and think about areas you might not normally consider "survival" topics. The reality is many of us stand a much larger chance of dealing with things like rip tides, car wrecks or power outages than we do in having to survive days in the wilderness. Those types of scenarios may not be as much fun to prepare for but, at least in my opinion, they are just as important to consider.
Okay before we wrap this up, just a quick update about some upcoming videos. Since pretty much most of my videos for a while have been gear reviews, I want to try to add more "how-to" and skill videos to the mix. I have several "Boy Scout Skills" videos coming up, along with a couple of new series on fire.
On the gear review side of things, I'm trying to add some variety with a wider mix of camping and backpacking gear, more concealed carry and "tactical" stuff along with some innovative new gear from smaller companies. And, oh yeah, a few really cool knives. Also I plan to continue the Schrade Saturday and Thrunite Thursday features, including the flashlight giveaways.
Anyway I promised to keep this brief so that's about it. Please be sure to check out this week sponsor (a.k.a. advertiser) The Everstrike Pro. I really appreciate your support 🙂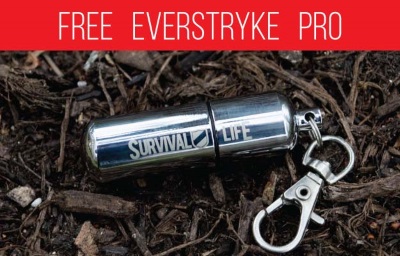 Thanks,
Bryan